Lesson 2: Circuits and Electric Light
Overview
Students begin this lesson by examining the components of a portable light device- a battery operated flashlight. This initial exploration and the discussion it generates is used to begin a guided exploration of simple circuitry. Students attempt to light a bulb using a battery, a wire, and a light bulb. Students keep a record of each attempt using words and sketches, noting which ones are successful and which are not.
Key Ideas
A complete path to and from a source is needed for an electric current to flow.
The flow of a complete electric current can produce light.
Lesson Goals

Students will:

determine how to light a bulb with a battery and wire.
recognize that electric current needs to travel in a complete loop in order to light a bulb.
identify the essential components of a circuit including a pathway and a source.
draw a complete circuit needed to light a bulb.
Lesson Resources

Download Lesson Plan (9 pages, 496 KB)
Teacher Resource 2.1: Simple Circuit Configuration



Instructions for stripping electrical wire (15 second video clip).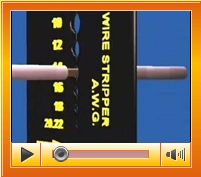 Online Extensions
Review simple circuit configurations through this interactive quiz.

View a vintage flashlight collection.

Meet Anna. She'll show you how to build a simple flashlight using materials found around your home.

Make a battery from a fruit or vegetable or construct a potato clock.

Join Rylee and her friend Kristen as they visit the Bakken Museum in Minneapolis as they investigate electricity and the human body.
Connection to Maine Agencies
MEEP (Maine Energy Education Program) has an Apple Battery exploration and will come to interested schools, free of charge, to guide this activity. Students experiment with making a battery by inserting different types of metals into an apple and measuring the electrical current they generate.

For schools in Aroostook County, a Maine Public Service (MPS) representative will come to interested schools, free of charge, to guide and support the concepts developed in this lesson.